Birth of Roaring India Project
As all know Indian Film Tech Startup Roaring Creations started with the aim of exploring Indian Culture, Nature, Tradition, History, Tourism, Historical and devotional places through Video production and photography. But for the survival of the startup Roaring Creations entered into Education and Entertainment industry. Now Roaring Creations has achieved financial stability and investing its profit into the Roaring India project. Roaring India is the dream child of Roaring Creations, Shrikant Gondhali, and Director Satishkumar. Mr.Shrikant, Co-founder & CTO of the Company loves his country so much and he has great vision for the development of country. Mr. Satishkumar, the Founder & CEO of the company had a dream of traveling the entire India in his own car. It is his biggest dream since childhood. During his graduation days, he worked as a part-time car driver to manage his college fees & study the Indian tourism sector. When Satishkumar's dream met with Shrikant's love for the country Roaring India project took birth. The great dream of Roaring India became true under the leadership of Shrikant Gondhali, Director Satishkumar, and the team.
"Roaring India" is the dream project of Roaring Creations Private Limited. Under this project, Roaring Creations is capturing cinematic travel films and photographs of the best and safe tourist spots, beautiful monuments, historic places, forests, waterfalls, landscapes, people's lifestyles, etc across India and publishing them on its official website (www.Roaring-India.com) and mobile app (Roaring India). Roaring India is the ultimate virtual travel guide for the Indian Tourism sector. It will be like Digital Travel guide for tourists who are coming to India in the future. For the latest updates follow Roaring India on all social media sites.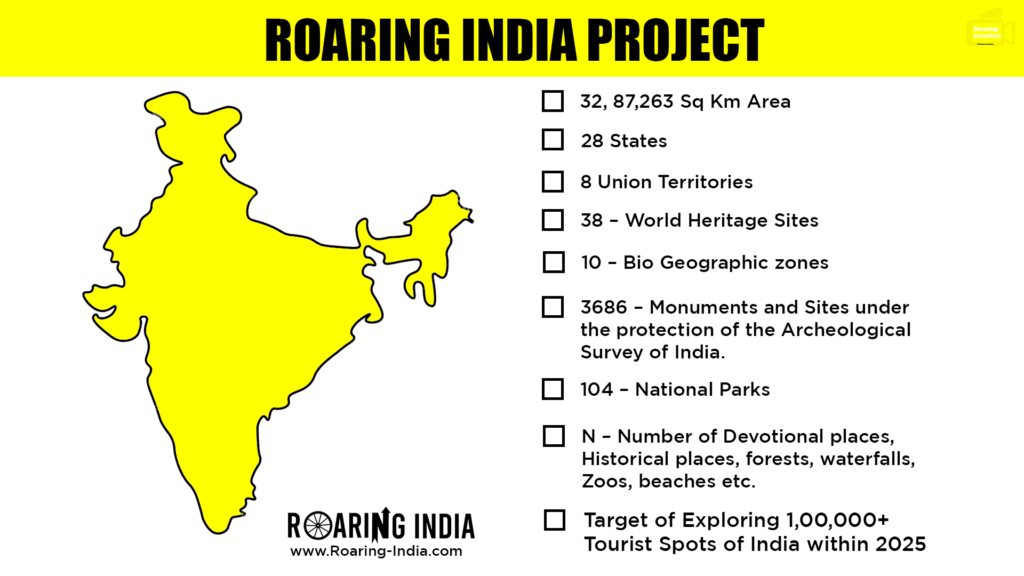 Mission of Roaring India
We are building the Ultimate Virtual and Digital Travel guide to the Indian Tourism sector by "Roaring India Project". Under this project, we are going to shoot all safe & best tourist spots, historical places, nature, forests, waterfalls, mountains, beaches, islands, devotional places, people's lifestyles, village life, different cultures, traditions, festivals, etc across entire India. We aren't stealing images and videos from social media and making travel websites or apps. We are exploring tourist spots by going there with the team. We are capturing images and shooting videos ourselves with the help of our team. This is the real travel adventure project of mad travel lovers.
How does Roaring India help Tourists?
"Roaring India" is a mobile app and a website that contains each and every safe and best tourist spot in entire India with real images and real travel films shot by our team. It's like the Tourism encyclopedia of India. It is the Ultimate Virtual and Digital Travel Guide to the Indian Tourism sector. With the help of this digital travel guide, tourists can travel across India without any confusion. The first traveler sees the real location with real images and real travel films captured by our team. Then he decides to visit there or not. Also, we provide each and every detail about that place in detail like how to reach, what to see, where to stay, what to eat, what not to miss, etc. This project will bring a big change to the Indian Travel and Tourism sector. After covering India, we will extend this project to the entire world. We will film the entire world. Then our project will become the Ultimate Tourism guide to the world.
Importance of Roaring India Project
India is the land of biodiversity, culture, and tradition. But there is no proper digital travel guide to it. A lot of websites are there in the market, but they are not giving real information about tourist places. Most of the places are missing, there are no recent and real images and videos of that place on their websites. Village places are almost neglected. These websites are only focusing on room booking and honeymoon package selling. To travel across every corner of India there is a strong need for a perfect digital travel guide with real images and travel films covering all the best locations in a single app. To solve the above-discussed problems, we are building the Ultimate Digital Travel Guide to the Indian Tourism sector through the Roaring India Mobile app and website. With this single app, tourists can travel across any corner of India easily without any doubts or confusion.
Apart from the above problems still there are so many serious problems in the Indian tourism sector like Lack of Infrastructure, lack of good transportation, lack of connectivity with other cities, lack of health facilities, lack of safe hotel rooms, lack of good restaurants, lack of women safety, bad service for a high charge, thefts, traffic police harassment, corruption in everything and total system failure. The Indian tourism sector is unfit and unsafe for all tourists due to a lack of safety and proper Infrastructure.
According to Mr.Satishkumar, "Indian tourism places aren't safe for women travelers. Because there are no safe rooms, safe cabs, and safe restaurants for women travelers. Indian hotel rooms are only safe to go with girlfriends, and not safe to stay with family, wife, or sisters. The mentality of Indian hotel chains is like a pimp. Diverted girls and bad boys are their target customers. The police department and related officers indirectly support such open-sex rockets. So Indian hotel chain has built the safest ecosystem for youths to do sex, party, drug, and drink like bad addictions. This worst and most sexy ecosystem is not safe for women travelers and male travelers who are traveling with their families, wife, sister, and mother. So there are more possibilities of sexual harassment, rapes, kidnaps, attacks, thefts, abuse, etc. So India is not safe for women travelers".
As discussed above there are serious problems in the Indian tourism sector. We are trying our level best to bring awareness and throw light on these issues. If more good people join us we will definitely finish the evils and make India the safest country for travelers.
Goals of Roaring India Project
1) Building the ultimate Virtual Travel Guide to the Indian Travel & Tourism Sector with recent real images and travel films.
2) Exploring Indian nature, culture, tradition, lifestyle, and tourism through cinematic travel films and photographs. Giving free publicity to unexplored and non-famous tourist spots of India.
3) Big boost up to Indian travel and tourism industry, hotel and lodging industry, food and beverage industry, Retail goods and trade industry. Sincere and strong contribution to the growth of Indian economy GDP.
4) Generating Income for the local economy by attracting more and more tourists to each and every tourist spot and rural area of India. And giving a boost up to small businesses, medium businesses, home industries, individual sellers, and stall owners.
5) Building the safest travel Ecosystem for women travelers through the Roaring India app, Roaring Rooms, Roaring Cars, and Roaring Restaurants, etc.
6) 1 Crore Employment Generation and creation of new business opportunities for Indian youths and women.
7) Exchange and promotion of Cultural, Traditional & Educational values of India with others.
Meet Team Roaring India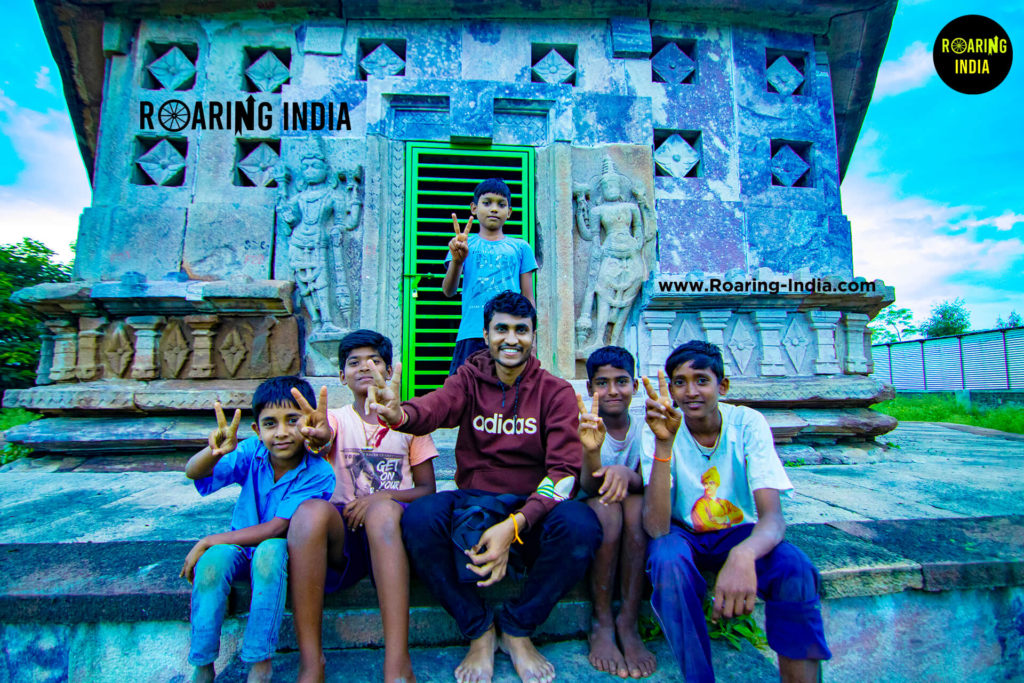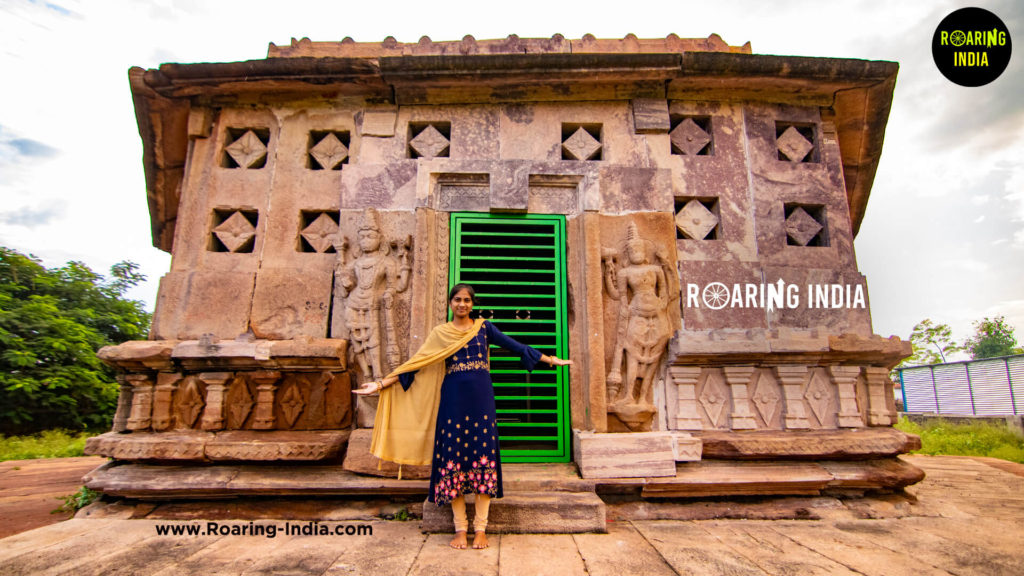 1) Project Head – Director Satishkumar: Satishkumar is a young multi-language writer, Motivational Speaker, Business Coach, Entrepreneur, and independent filmmaker from India. And also he is the Co-founder and CEO of Roaring Creations Pvt Ltd India.
2) Project Manager – Shrikant Gondhali: Shrikant Gondhali is a Young Entrepreneur and Independent Filmmaker from India. And also he is the Co-founder and CTO of Roaring Creations Private Limited, India.
3) Other Team Members: Mayashree Mali, Akanksha Mali, Bhavani Gaikwad, Kavita Mali, Dr Priyanka Pathak, Rani Phule, Anjana Jain, Rishab Jain, Rohitkumar Patil, Sachetan Kore, Shivakumar Kulakarni, Shrinidhi Patil, Rajaneesh Gondhali, Ruturaj Patil & Chirag Patel.
Content Rights :
(All Rights of this article are fully reserved by Director Satishkumar and Roaring Creations Private Limited India. No part of this article can be copied, translated or re published anywhere without the written permission of Director Satishkumar. If such violation of copy rights found to us, then we legally punish to copy cats and recover our loss by them only.)
©
Director Satishkumar
Copyright and Trademark Warning 
Complete Rights of all Images, Videos, Films, and Articles published on www.Roaring-India.com are fully Reserved by Roaring Creations Private Limited and Roaring India Project (Satishkumar Gondhali, Shrikant Gondhali, and Mayashree Mali). All Commercial Rights of our content are registered and protected under Indian Copyright and Trademark Laws. Re-publishing our content on Google or any other social media site is a copyright and Trademark violation crime. If such copycats are found to us, then we legally punish them badly without showing any mercy and we also recover happened loss by such copycats only. The minimum amount of fines will be more than 10 crores. 
Join Our Online Courses Now